Back To Blog
People often buy door locks without knowing much about them. They install them usually on their own without having a clue whether they have done the job right or not. Then, feeling confident regarding security, forget completely about their locks. This is entirely wrong! If you are hurting someone with negligence it is unfortunately, yourself, since security door locks require more than just good installation. They need good maintenance throughout the years and attention in case of damage. In either case, the right treatments are required in a timely manner to prevent security problems.
Who ever thought of lock maintenance? Who actually takes care of his locks? The mistake many people make is forgetting that these are just mechanisms and, in fact, made of steel. As they are exposed to the elements year after year, there is a chance of rust developing. They will certainly get dirty and dust accumulated inside the keyhole won't allow you to use the key properly. One day will simply discover the key won't insert in the hole and wonder why! It shouldn't be a surprise! When the lock is dirty, debris might keep the key from moving all the way in and this is a problem. It is actually one of the reasons for house lockouts.
Locks need cleaning and lubrication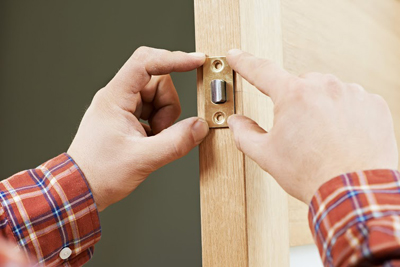 How do we maintain locks? Simply, remove debris; wipe off all dust, and old lubricant residues. Since they are made of steel, require lubrication so the key slides in the hole smoothly. As time goes by, lubricants mix up with the accumulated dirt and make the system very stiff. This nasty compound must be properly cleaned and in order to do that, disassemble the lock. If you have door knobs, they must be removed. If you have a deadbolt, the whole mechanism must be removed. The intention is to have the lock mechanism right in front of you in order to use canned air and a small brush to remove the dirt before lubricating the lock again.
This process offers the opportunity to check out the parts of the mechanism and see if lock repair is in order. When the lock is clean and lubricated, the key turns easier! In a different case, it might break especially if force is placed in order to turn it. Although it's easy to get a key replacement, why go through all this trouble? Taking care of the mechanism helps avoid problems, lockouts, and security issues.